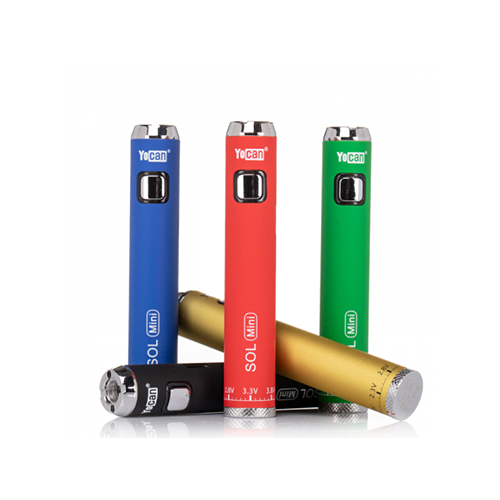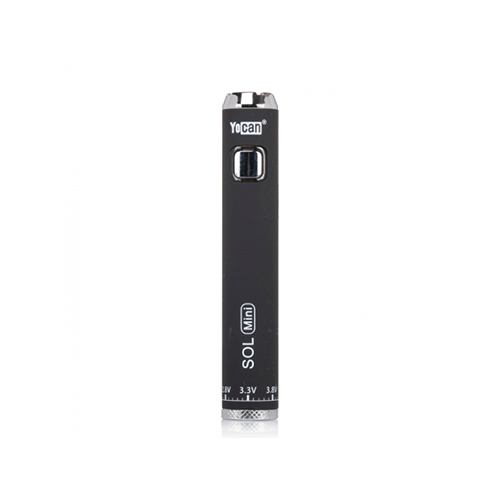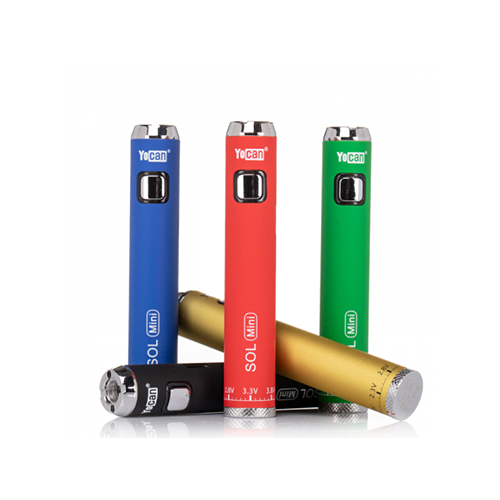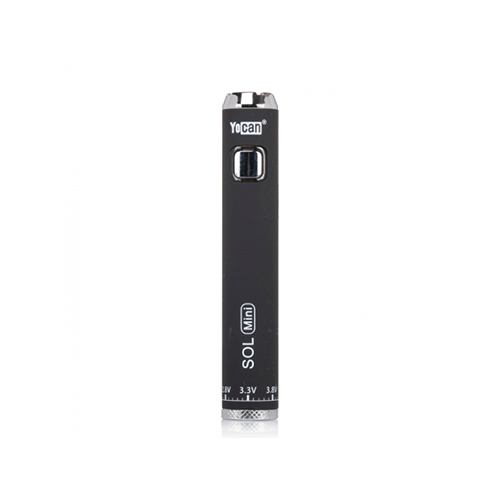 YOCAN SOL MINI 400MAH VAPORIZER BATTERY
Explore the Yocan SOL Mini 400mAh Vaporizer Battery, equipped with a built-in 400mAh battery, a variable voltage dial, and a 10-second pre-warming feature.
Please be aware that the "SOL" series has transitioned to the "ARI" branding. As a result, you might receive a product with either label.
Description
Explore the Yocan SOL Mini Vaporizer Battery, equipped with a built-in 400mAh battery, a versatile voltage adjustment knob, and a rapid 10-second preheat function. Crafted from robust stainless steel, the SOL Mini ensures durability while offering consistent performance. Its adjustable voltage dial, located at the base, allows for an output range of 1.8-4.2V, making it a perfect match for most concentrate tanks in the market. The 10-second preheat functionality ensures that any accumulated concentrates are melted and softened, ensuring a smoother vaping experience.
Yocan SOL Mini Vaporizer Battery Highlights:
Dimensions: 80mm by 14mm Diameter
Integrated 400mAh Battery
Voltage Range: 8-4.2V
Minimum Resistance: 8ohm
Adjustable Voltage Power System
Stainless Steel Body
User-friendly Firing Button
Base Voltage Adjustment – 0.5V Steps
15 Second Safety Timeout
MicroUSB Type-C Charging Port
510 Threaded Connector
Colors: Black, Silver, Blue, Green, Red, Gold
Package Contains:
1 Yocan SOL Mini Battery Device
For safe and optimal usage:
Ensure you understand the technicalities of this product.
For 18650 battery mods, consider using an external charger for balanced charging and longer battery life.
Avoid using batteries with visible damage or improper wrapping.
For consistent performance, use batteries of the same brand, model, and state. Temperature control requires nickel, titanium, or stainless steel coils.
Safety Reminder:
Handle Li-ion (Lithium-ion) and LiPo (Lithium-ion Polymer) rechargeable cells with care. Their sensitivity to charging means they can explode or burn if
mishandled.
Only use rechargeable batteries with adequate
Always charge on a fire-proof surface and don't leave
Discard batteries with visible
Store and transport batteries safely, using non-conductive
Avoid using or charging any battery with visible damage or after stress
Please dispose of batteries, chargers, and other devices responsibly, adhering to local regulations.
Related Products